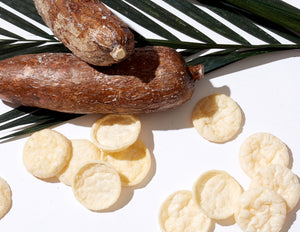 Private Label Snack Manufacturer/ Contract Manufacturer
Snack Development | Popped Snacks
Air popped, Better-for-you snacks are light and crisp and all without the grease - completely guilt-free! They are quickly emerging in the market as the preferred choice of snack over fried and baked.
We at Livewell Snacks specialize in popped technology and are the premier leader of  private label for Better-for-you, popped savory snacks, ranging from cassava, potato, to corn, just to name a few!
Work with us to create popped Better-for-you snack to expand your product line. Choose from the handful of preset options that are proven to be delicious based on our house brands OR we can work with you to build your own crunchy crisp from scratch. 
Ingredient Sourcing from Live Well Snack's Strategic Partners, Guaranteed Food Safety and Quality Standards and Creative Packaging & Design, these are just a few you'd get - Whichever direction you go, either Private Label or Co-packing, we are here everystep of the way.
"Making Your Better-for-you Snacks is Our Specialty: Streamlining the better-for-you snack making process, so you can focus on your customer's cravings"
Base
The start of it all is the base ingredient. It provides crispness and lightness that consumers are looking for. It is what drives the flavors.
• Rice • Potato • Quinoa • Pea Protein • Corn • Lentil • Chickpea
Size
Whether you are looking for larger crisps for wine and cheese nights or mini sized for your kids snacks,  We can customize it just the way you want!
• Crisps • Popped • Round • Mini • Custom
Flavors
Looking for something classy like Sea Salt or something sharper like our Vegan White Cheddar. We have 4 amazing flavors on hand but if you had a specific flavor in mind, we can work with you to make it a reality.
• Sea Salt • Maui Onion • BBQ • White Cheddar • Custom